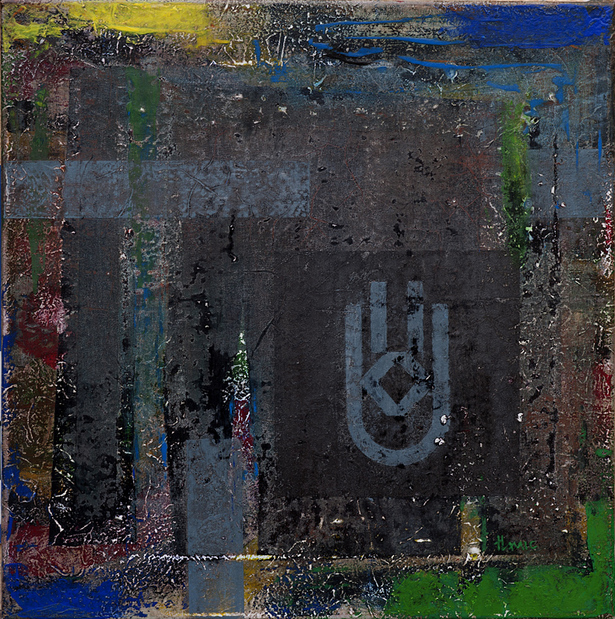 Friendly Hand
2013, Oil & Acrylic on Canvas, 40cm x 40cm, Framed, Author: Thomas Lamic, LamicART No: 201317
All range of colors present human life. Three silver lines represent something big, something that is most important in his life, maybe children or grandchildren...someone to whom that person gave life. He has a "Friendly Hand" for everyone......

Today's art of the day is called, "Friendly Hand" by Thomas Lamic. It's a dark, ironically titled, authoritarian and it reminds us of graffiti art which itself represents a dichotomy of themes. The, "friendly hand" has a very ominous eye in the center and we wonder if it's this that conjures authoritarian, totalitarian overtones. The murky, subdued choice of colours enhance the oppressive feel to the piece and the way the hand itself is drawn evokes overtones of electronic devices... an allusion to our digital age perhaps? Certainly the piece reminds us of the Obey logo's featuring Andre the Giant and although that was more ambiguous in nature, this piece is certainly seeming more definitive in intent. It's an appropriate piece for this day and age of modern data surveillance and the literal stamp of the hand on an otherwise abstract composure underscores just how big an issue this is in our current era. This piece didn't evoke the most pleasant feelings (indeed they were quite depressing) from me in writing but in exploring and analyzing this work I've found it to be very interesting and different from many of the recent winners. However it is because it draws out these negative feelings but is possessed of great depth and context this I am grateful to Thomas Lamic for such a provocative work and the

artradio.tv

team for choosing it. In essence the positive bias drawn by some members of the team was balanced and lead to an interesting discussion about it.

http://www.artradio.tv/thomas-lamic/

Thomas Lamic has an interesting series of abstract oil and acrylic paintings over at

artradio.tv

. We also liked this one and this one, because they both also generated interesting ideas in explorations of their themes. Certainly the piece titled border creates interesting political discussions but we save your interpretation of his art to you. We all had very differing opinions and we hope you and Thomas shares them on

artradio.tv

. Congratulations Thomas Lamic you win, "Best art of the day!" To see this work in more detail click here. To see more work by this artist click here. Regards, The

artradio.tv

team.

www.artradio.tv

We are ArtRadio.

Poster - printed on "Photo Saten" 160g paper: (poster sent to the home address without frame)
Signed reproduction on canvas: (image sent to the home address without frame)
Price for the original painting -

contact to Artist.